RESISTOFLEX® Lined Check Valves
Resistoflex® ATL was designed specifically to address the challenges of handling severe service applications. It has been proven to reduce permeation rates by up to 60% and features a full vacuum rating up to 450°F (232°C). As such, ATL Lined Pipes and Fittings are an economical choice compared to Exotic Alloys or Glass Lining.
Features And Benefits
Optimized PTFE liner: Resistoflex®ATL PTFE liners are produced from carefully formulated resins and proprietary processing and lining techniques. The result is a molded PTFE liner that provides optimal crystallinity and strength. ATL PTFE liners provide the best permeation resistance in the industry.
Enhanced venting system: Resistoflex®ATL PTFE pipe and fittings are designed to minimize any potential permeation attack of the housing by use of an advanced venting system that eliminates blockage and corrosion at the vent hole.
Highly chemical and temperature: Resistant paint system Resistoflex®ATL PTFE pipe and fittings are double coated with a highly chemical and temperature resistant paint. This paint is rated to 450°F (232°C) and can be used under insulation.
Technical Details
DESIGN FEATURES
ATL Lined Pipes & Fittings
MATERIALS OF CONSTRUCTION
Carbon Steel, Cast Steel & Ductile Iron
Stainless Steel & High Alloys
Low temperature Carbon Steel
SIZE RANGE
1″ to 12″ / DN 25 – DN 300
PRESSURE RATINGS
Class 150 & 300 / PN 10 & 25
TEMPERATURE RANGE
Applications
Halogenated Acids & Chlorinated Organics
Chlor-Alkali / VCM
Silicones
Chlorofluorocarbons: Refrigerants/Cooling Systems
Polysilicon: High-Purity for Solar Cells
Polyurethanes: TDI-MDI
Brominated Compounds: Fire Retardants
Halogenated Butyl Rubber
Agricultural Chemicals: Pesticides and Weed Killer
Literature
DATASHEET
Certificates
---
Certified to ISO 9001
PED/CE Annex III Module H
ASTM F1545-15a Certified Test Reports
Fully Traceable MTRs to BS EN10204:2004 Type 3.1
Videos
Product Animations and Video Library
Features And Benefits
Choice of three chemical resistant liners
Mechanically Locked into the housing
Excellent chemical and abrasion resistance
Liner thickness ranging from 0.125" – 0.450"
Lengths up to 20FT
Flanged and ready to install
Single piece complex shapes
Smooth Liners prevent buildup of scale and biologics
Technical Details
DESIGN FEATURES
HDPE Lined Pipes & Fittings
PP Lined Pipes & Fittings
ETFE Lined Pipes & Fittings
MATERIALS OF CONSTRUCTION
Carbon Steel, Cast Steel & Ductile Iron
Stainless Steel & High Alloys
Low temperature Carbon Steel
SIZE RANGE
PRESSURE RATINGS
Class 150 & 300
Higher with use of retainer rings
TEMPERATURE RANGE
HDPE: up to 180°F / 82°C
PP: up to 225°F / 107°C
ETFE: up to 300°F / 150°C
Applications
Seawater for Cooling
Waste Water Collection and Treatment
Brackish Water
Condenser Water Recirculation
River or Well Water
Demineralized Water
Oily Water / Drain Lines
FGD Slurry Pipelines and Lime Injection
Brine
Sulfuric Acid
Hydrochloric Acid
Nitric Acid
Phosporic Acid
SO2 Scrubber Columns
H2S Stripper
Ultrapure Systems
Literature
FLYER
RESISTOFLEX® Large Diameter – US
BROCHURE
RESISTOFLEX® Large Diameter CHEMICAL- US
RESISTOFLEX® Large Diameter OIL & GAS- US
RESISTOFLEX® Large Diameter POWER – US
MANUAL
HDPE-Lined Installation Manual
LD PP-Lined Installation Manual
Certificates
---
Certified to ISO 9001
Fully Traceable MTRs to BS EN10204:2004 Type 3.1
Videos
---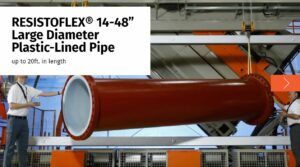 Resistoflex LDP – Large
Diameter Pipe